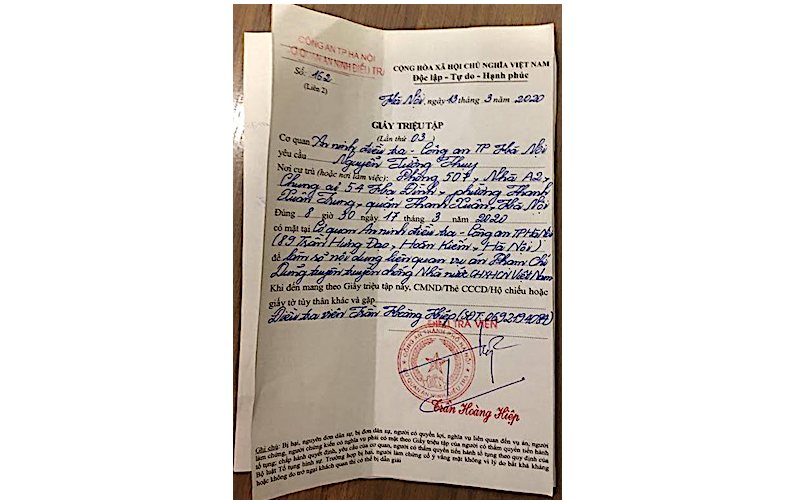 VNTB – Activists harassed in Hanoi 
(VNTB) – Activists were harassed by authorities amid coronavirus crisis


Can Thi Theu – land rights activist
At 8:30 on March 17, 2020, law enforcement from Ngoc Luong commune in Yen Thuy, Hoa Binh Province presented a summon to Ms. Can Thi Theu demanding the family to come for a working session regarding their residence registration at the police station.
Around 10 policemen and authorities presented. There were two strange men who quickly disappeared after failing telling their names and roles. Ms. Can suspected those two strangers were alleged thugs that accompanied law enforcement. 
After one hour, law enforcement left Ms. Can's premise. 
The authorities continue to harass Ms. Can and her family since their reports on Dong Tam massacre and its aftermath on 9 January, 2020. 
On 5 March, 2020, policemen and authorities from Duong Noi ( Ha Dong Ha Noi) questioned the family about their filing for land use right certificate, Registration of houses and other land-attached assets ownership. 
On 13 March, the authorities of Ngoc Luong commune demanded the family to present at the local authorities office to 'clarify their place of residence'. After that, the local authorities sent other 3 summon letters for the same reason.
On 16 March, the family was summoned again but Mrs. Can refused to leave her resident. 
It is likely an act of reprisal by the authorities against their supports to Dong Tam's people.

Nguyen Tuong Thuy –  

the Independent Journalists Association of Vietnam (IJAVN) 
Mr. Nguyen Tuong Thuy, temporary chairman of IJAVN has been continually subject to harassment and surveillance. 
On 11 March, law enforcement delivered a summon to his wife but she did not accept it because Nguyen was absent.
On 16 March, at 9:30 PM, another summon dated 13 March 2020 was delivered to his house. The law enforcement demanded him to present at the police station at 8:30AM on 17 March regarding the imprisoned chairman of IJAVN – Pham Chi Dung who was charged under Article 117 of Penal Code charge. 
Mr. Nguyen refused to comply due to his vulnerable health condition and coronavirus crisis. Nguyen declared that he would not be able to provide any information about Pham Chi Dung. 
On 18 March, 6 policemen arrived at Nguyen's resident at 6:10 questioning his refusal the summon delivered on 16 March. Nguyen was interrogated in 30 minutes. 
Nguyen was told to be prepared for another summon on Monday or Tuesday next week.


Nguyen Thien Nhan – IJAVN 
On 4 March, Nguyen Thien Nhan was summoned and threatened by police in Binh Duong Province. 
The summon stated that Nguyen to be present at the police bureau regarding his registration for temporary stay and local security issues. 
During the 2-hour interrogation, 4 policemen asked him about IJAVN and its  the imprisoned chairman – Pham Chi Dung, and his trip to Thailand in 2015. 
Pham Chi Dung, chairman of IJAVN since 2014 was arrested on November 21, 2019 after he had sent a letter to EU calling for postponing consent of EVFTA.
The authorities have denied Dung access to  family and attorneys since then.